LGCC are unique in being an on online community/forum for mixed terrain content and an active cycling club. We formed as we found so many people were new to the discipline and being Londoners, weren't blessed with finding an abundance of trails on our doorstep. Many who have found their way to us were looking to take their first steps in to bikepacking, and we now boast an active community of bikepackers who put on regular trips and attend international ultra-distance events. It doesn't matter how experienced you are - we welcome riders with an interest in trail riding, bike-packing, sportive riding/racing, endurance rides and a sense of adventure.
We have club rides each weekend taking off from different parts of London and run multi-day bike packing trips and events that will be listed on Strava. We have an active Discord group for finding riding partners and arranging ad-hoc rides throughout the week.
Most rides are suitable for intermediate to experienced riders and unless specified operate on a no-drop policy – we're a friendly bunch so just ask if you're unsure!
The LGCC team reflect gravel as a culture as we all found our way to the activity from different means and gravel means something different to each of us. The team came together when Agris put out a note on Facebook looking for other gravel riders in London to go exploring with. Responding to Agris' siren call, Francis & Agris met each other on what became our first two club rides in Epping Forest and Hertfordshire.
Agris Veinbergs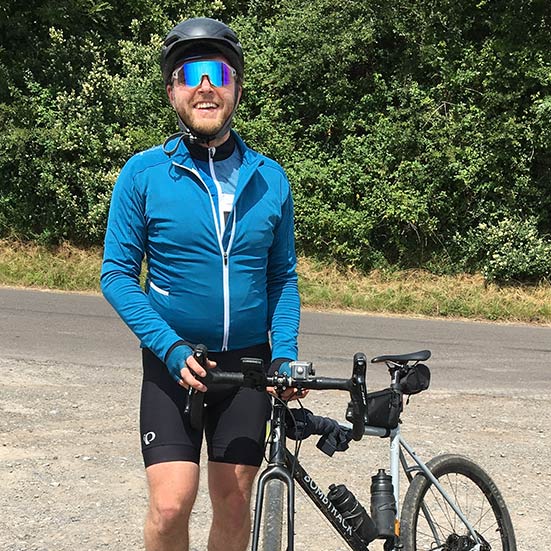 Agris, founding member of the London Gravel CC, dedicated to promote human wellbeing in the context of cycling. Enthusiastic about cycling since the age of 5, when he got his first bike as a birthday present.
Has been unknowingly 'gravel cycling' for two decades, when smashing city roads and country trails on his old school MTB's.
See you on two wheels!
---
Garrett Turbett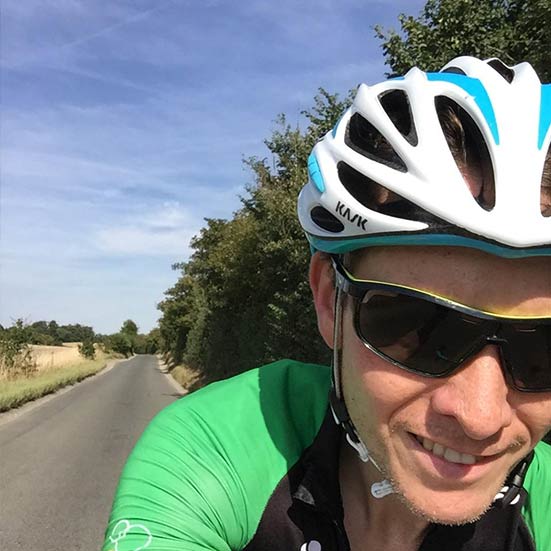 Garrett started competitive sport at a young age, taking part in cycling, athletics and martial arts. In over 30 years of endurance sports, he has competed extensively in running, cycling and triathlon.
It was in triathlon where he raced on the elite circuit for Ireland and was fortunate to stand on a few podiums.
He has also coached for a number of athletics, cycling and triathlon clubs and has helped athletes from club to international level.
Garrett has lived in North London for nearly 30 years so has a good knowledge of Hertfordshire's lanes and trails.
He's currently training for some longer multi-day rides and will be leading out regular rides from North London.
His cycling goals for 2021 include cycling from Cornwall-to-London in July and completing the 200 mile London-OxBridge loop in August.
Pic. On a lane somewhere near Harpenden, Hertfordshire.
Instagram:@garrett_sfe
Strava
---
Paul 'Straitty' Straitt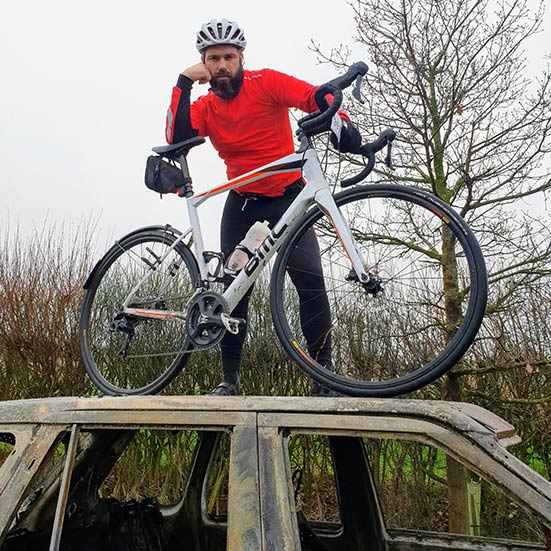 He's an all-round cyclist who tried,
To keep his wheels rolling outside,
Mud, road or gravel,
Have bike will travel,
Spread the word, just get out and ride.
---
Francis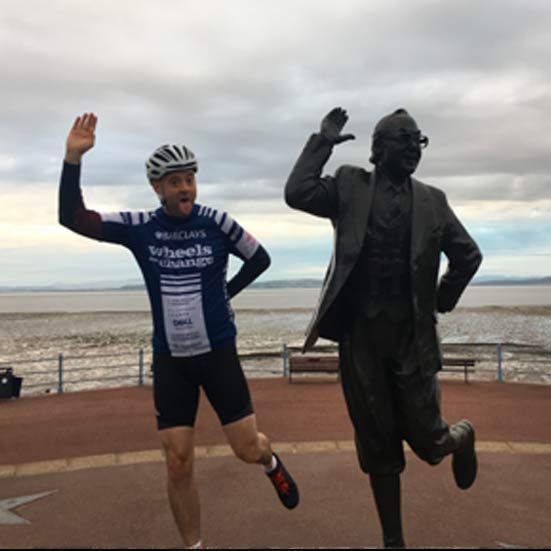 rancis has always loved riding and falling off bikes from a young age. With a love of the outdoors and journeying, gravel cycling is a perfect fit.
---
Kieran Bradshaw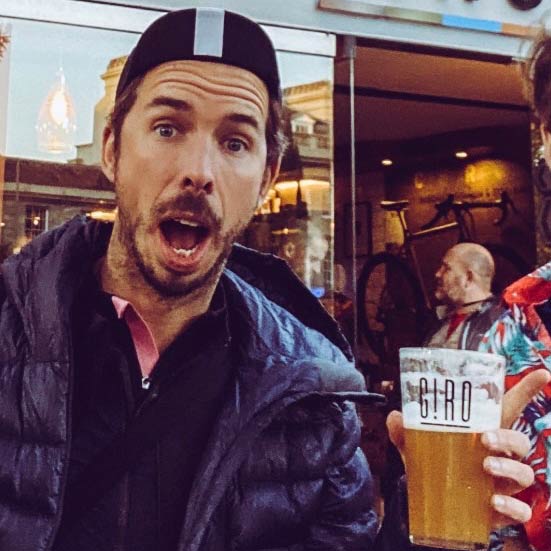 My mother continued cycling right into the final weeks of pregnancy; I credit this for my life-long obsession with bikes, from riding them to selling them to building trails for them, I'm at home on two wheels. After running a mountain bike holiday company in Chamonix, I moved back to London have been seeking out the best trails around the capital ever since; with a firm belief in never being 'over biked' I've become wedded to gravel bikes and I'm continually surprised by all the great riding they open up around us.
---
Pierre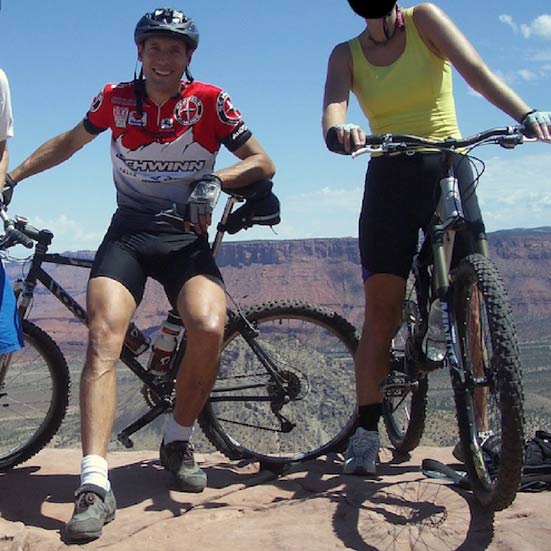 Like many I started with my older sister under my parents supervision Rode with kids in my neighborhood (my first really memorable fall occurred on a cycle way too big for me when I decided to try it downhill with no hands and the front wheel started wobbling... my first true head dive) Rode to school. Rode to Uni and had a few bikes stolen Rode to work... and others thought I was weird (I'm fully at peace with that) Occasionally rode with dates on the handlebar or at the back Had the chance to cycle in some incredible places (pulled an old pic from Canyon Land in Utah) - made great friends through cycling
I ride for fun, for the sense of unlimited freedom it brings, for the carbon-neutrality and health benefits. Sometimes purely to go from A to B I've been seen carrying cycles on my back, skis, wine cartons, even the occasional piece of furniture... I like to fix bikes also and keep them going I love the idea of an inclusive cycling community (from 3 to 103 years of age) - cycling as a way of life! (Also... with a future!)
 I hope to remain in the saddle for as long as I can, if the Wheel gods will let me 
---
Alessandro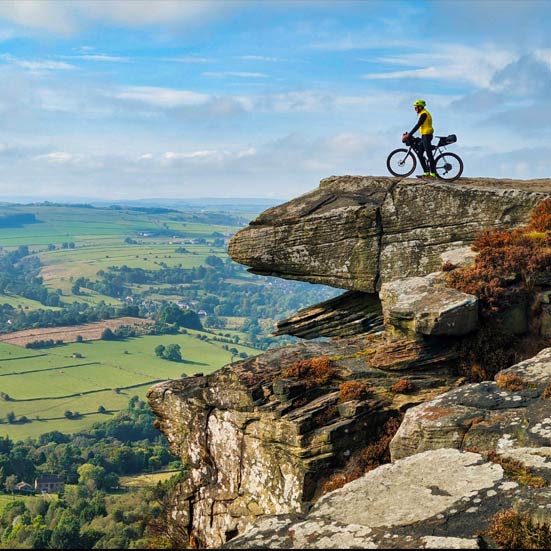 I'm in my late 30s and Italian. Me and my wife started cycling just before the pandemic with our first bikepacking trips on very heavy cheap amazon bikes. We loved the freedom of it and during the pandemic we bought two gravel bikes and started cycling more often. We enjoyed road but loved gravel riding and decided to start a YouTube channel called The Bike Challenge to film UK gravel and bikepacking content. I've led several rides with Penge CC and I'm confident with groups up to 20 people when pairing with my wife.
---
* Seb *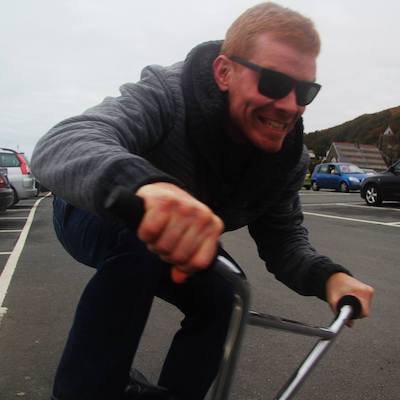 Seb is always ready to go riding and get dusty on some far out country lane. He has been riding bikes all his life. Gravel riding seemed like a natural progression. His favourite part of near London area to go riding is Surrey with all its trails and hills.
---
Kevin Wright